Ride through the creater, the ancient Shugendo (mountain asceticism) path, and the glassland to the city.
Have a slalom ride on Mt. Aso with an electronically-assisted mountain bike
Overview
Cycle on a electronically-assisted mountain bike in the vast grassland of Aso, a place that people usually cannot access. You can ride through the majestic nature of Aso, feeling the breeze of the plateau and the fragrance of the grassland. You can also enjoy the impressible staircase descent and riding downhill. Along the way, you can see a wondrous form of nature, the Lava Bridge, have tea time in the grasslands, and walk around historic sites that retain the history of the former Aso sacred grounds of Furubochu and Fumotobochu.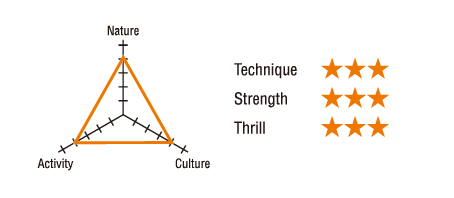 Itinerary
Aso Station - Bokuya Hill climb - Mt. Aso Crater visit - Kusasenri ride - Bokuya Town Hill slalom - Fumotobochu stroll <Saiganden-ji Temple visit> - Aso Station
Program participation detailed information
| | |
| --- | --- |
| Time | 3 hours (One Way, Including Lunch) / 5 hours (Round Trip, Including Lunch) |
| No. of Participants | 2 ~ 8 people (per group) |
| 2 ~ 8 people (per group) | 2 ~ 8 people (per group) |